FRSecure prides ourselves on our ability to protect sensitive, confidential business information from outsiders. We know that security is not one size fits all for businesses, so we ensure that our team creates a solution that fits the needs of each of our clients. Because of this, our services have caught the attention of Clutch, a Washington, D.C.-based ratings and reviews firm. FRSecure is proud to announce we have again been selected as a top Minnesota IT and Business Services provider on Clutch in 2019.
Clutch connects services providers and buyers via its platform, which features verified customer reviews. The platform displays a wide variety of firms from a wide variety of industries and locations. After analysts conduct client interviews and study industry data such as market presence, they are able to rate and rank each company. We have earned a 4.9 rating! Thank you to our clients for participating in the review process.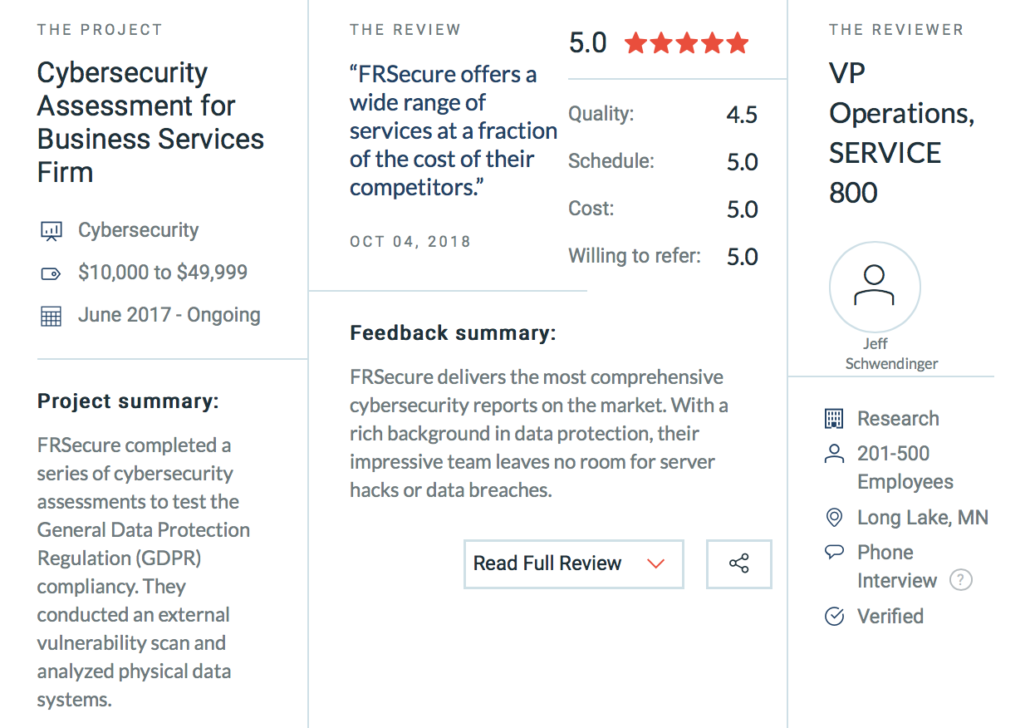 Along with our feature on Clutch, we can be found on their sister sites, The Manifest and Visual Objects. The Manifest operates as a B2B news and how-to site, informing buyers of the marketplace while they search for firms. On a Visual Objects profile, buyers can find an agencies' portfolio work along with their Clutch rating.
The whole team at FRSecure is proud to have received these Clutch awards.
"We have an ambitious mission at FRSecure. The information security industry is broken, and we intend to fix it. In the industry, we're not speaking the same language when it comes to defining security and risk, so it's impossible to manage them properly. Being a Clutch Leader for another year means a lot to us because it proves we're on the right track of fixing the industry and its language problem. By having customers who are pleased with the work we're doing, it means that we've helped them better secure the information they are responsible for and are contributing to better security across the industry."

John Harmon, FRSecure President
We look forward to reading more client feedback on Clutch! If you are in need of information security services, let's get in touch today.