Secure Your Business and Defense Contracts
Get backup from our team of security and compliance experts to prepare your organization for meeting CMMC standards.
Cybersecurity Maturity Model Certification
Prepare your security program to meet future DoD requirements
The CMMC (Cybersecurity Maturity Model Certification) outlines the information security requirements the DoD enforces on its DIB partners.
It is the defined set of requirements for any DoD contractor that receives, stores, processes, or transfers any type of CUI (Controlled Unclassified Information). The CMMC is made up of 3 different tiers according to the level of information that is used to fulfill the contract. Depending on the CMMC level that is required in the contract, third-party assessments may be required.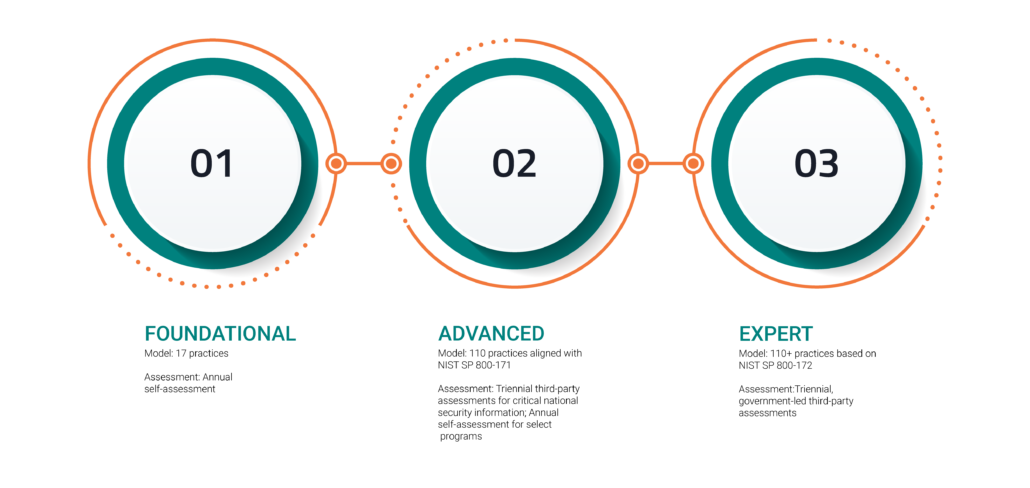 How can we help?
Speak with one of our CMMC registered practitioners to get started on your path to compliance.
CONTACT US
How does FRSecure approach CMMC?
It is vital for any DIB partner to know exactly where they stand on the CMMC information security requirements. Reporting false or inaccurate information in the SPRS system or while bidding can severely hinder an organization's ability to bid on federal jobs in the future.
FRSecure uses the latest information available from the DoD and the CMMC-AB, along with several CMMC RPs (Registered Practitioners) to help its clients make sure they are ready for a CMMC assessment. We help with scoping, develop roadmaps, and walk you through each control that is required to be compliant, all while ensuring your information security program is as robust as possible in the process.
Level 1 focuses on the protection of FCI and consists of only practices that correspond to the basic safeguarding requirements specified in 48 CFR 52.204-21, commonly referred to as the FAR Clause.
Level 1 is equivalent to all of the safeguarding requirements from FAR Clause 52.204-21.
Self-assessment will be allowed at this level.
Level 2 focuses on the protection of CUI and encompasses the 110 security requirements specified in NIST SP 800-171 Rev 2.
Self Assessment may be allowed at this level as well. 
Level 3 will be based on a subset of NIST SP 800-172 requirements. Details will be released at a later date.
"PGC has worked with FRSecure since late 2013. We have utilized their services for information security risk assessments, virtual CISO services, NIST standard process implementation, and training programs. FRSecure staff are knowledgeable, thorough, and helpful in allowing us to achieve our goal of supporting customers who serve the aerospace and military industries. We highly recommend FRSecure. You will be delighted with their offerings and results."
"FRSecure wants to make sure that they give you exactly what you need, and that's the primary reason that I went back to them. They really offer you very personal instruction and guidance."
We are open for new projects
Need help meeting CMMC requirements? Let's Talk!