Secure Your Business and Defense Contracts
Get backup from our team of security and compliance experts to prepare your organization for meeting CMMC standards.
Cybersecurity Maturity Model Certification
Level up your security program to meet future DoD requirements
The Cybersecurity Maturity Model Certification is the government's way of keeping tabs on the security of its potential defense contractors. It provides a mechanism for the DoD to ensure their vendors are ready to work with the department. It focuses on certifying the "maturity" and "capability" of each DoD vendor's security processes, practices, and methods. Some vendors will require a score for submission meaning vendors who don't possess mature enough processes may not be chosen for that proposal.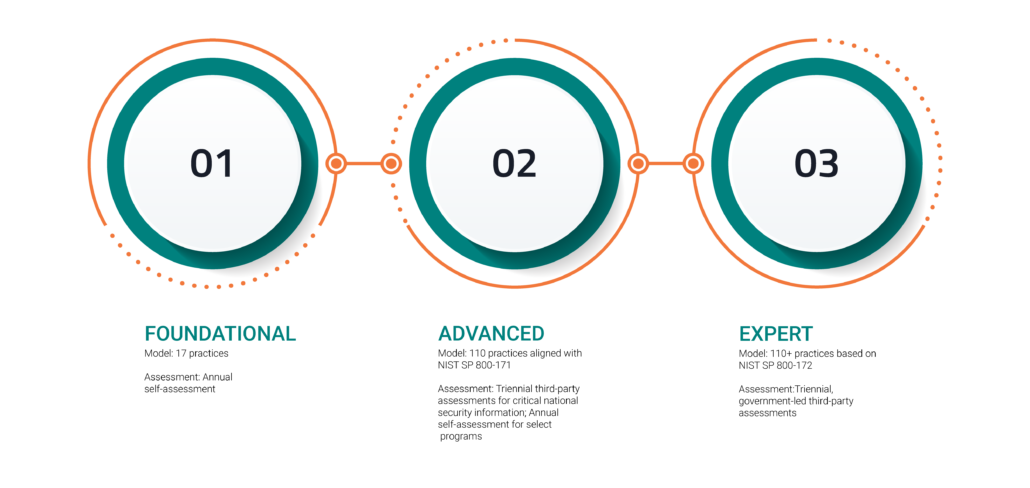 How can we help?
Speak with one of our CMMC registered practitioners to get started on your path to compliance.
CONTACT US
How does FRSecure approach CMMC?
The CMMC is based off of industry standards that we already use in our unique risk assessment scoring methodology. Comparing risk assessment results to CMMC requirements, we'll establish  where you stand in each of the levels. Knowing where you need to be and how you scored, we'll look to see where the gaps in compliance are—and act as a dedicated security resource to make sure you get to that point by the time requirements take effect.
Level 1 focuses on the protection of FCI and consists of only practices that correspond to the basic safeguarding requirements specified in 48 CFR 52.204-21, commonly referred to as the FAR Clause.
Level 1 is equivalent to all of the safeguarding requirements from FAR Clause 52.204-21.
Self-assessment will be allowed at this level.
Level 2 focuses on the protection of CUI and encompasses the 110 security requirements specified in NIST SP 800-171 Rev 2.
Self Assessment may be allowed at this level as well. 
Level 3 will be based on a subset of NIST SP 800-172 requirements. Details will be released at a later date.
"PGC has worked with FRSecure since late 2013. We have utilized their services for information security risk assessments, virtual CISO services, NIST standard process implementation, and training programs. FRSecure staff are knowledgeable, thorough, and helpful in allowing us to achieve our goal of supporting customers who serve the aerospace and military industries. We highly recommend FRSecure. You will be delighted with their offerings and results."
"FRSecure wants to make sure that they give you exactly what you need, and that's the primary reason that I went back to them. They really offer you very personal instruction and guidance."
We are open for new projects
Need help meeting CMMC requirements? Let's Talk!